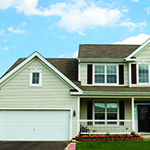 Garages are an often overlooked part of your home. You want to be sure potential buyers aren't pushed away by a rundown garage. Follow this list to keep your garage clean and safe.
Keep the Door Working
The most important feature of your garage is actually being able to access it. If you have an older door and motor, make sure you maintain the parts. Apply oil and clean out any dust or debris that may have gathered since the last cleaning. Don't forget about the rubber lining on the bottom of the door. Make sure it isn't tearing so your door avoids damage.
Continue Cleaning
Continuous cleaning is the best way to maintain your floor and walls. Clear out any dust or cobwebs to keep your garage attractive to interested buyers. Rinse down your garage floor a few times per year or whenever spills occurs. If there are any large cracks in the cement, you can usually find do-it-yourself concrete kits to make repairs. This will keep the cement looking nice and fresh.
Investigate for Pests
Keep an eye out for any insects in your garage. If you have an infestation from termites or carpenter ants, they can cause serious damage to the foundation. If you notice any sawdust or chewed wood, call an exterminator immediately. It's not a bad idea to contact your local pest control services to see what options they have for spray to prevent an infestation in the first place.