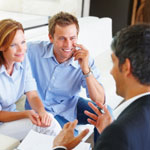 Selling your home can be a complex process. How will you get the correct paperwork taken care of? Who will handle showings to potential buyers? A professional real estate agent can help ease your burden, and solve the majority of challenges you might face. However, when hiring an agent, it is important that you find a good match, and work with someone who will fit best with your unique situation. As a good rule of thumb, the following are four things you should feel comfortable expressing to your agent.
Negotiations
It is extremely important that your agent be equipped to handle any and all challenges that may come your way. The ability to negotiate is crucial. Let your agent know that you expect he or she to be aggressive and firm when negotiating with potential buyers or their agents.
Relocation
Your agent should be able and willing to help you with the moving process. Being without a roof over your head is not acceptable, and paying two mortgages may not be either. Ensuring that your agent can coordinate the closing of your current home with the closing of your new home simultaneously is key. Mel Foster Co. has an award-winning relocation department that can support your agent and provide you with the tools to make a smooth transition to your new city.
Timetable
Will your move into a new home revolve around the start of a new job or school year? Planning a move this structured can be mentally and emotionally draining. It is imperative your agent understands your time constraints and can work within your needed parameters. Be up front about your timing concerns and share this information with your agent before you agree to go under contract.
Sell My House!
You hired your agent to sell your home so you can focus on the changes you are undergoing, which prompted your move in the first place. It is ok to remind your agent of these motivations. Set your expectations with your agent appropriately and this could be one of the best working relationships you will ever encounter.