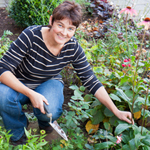 It won't be long before the seasons change and the first snow falls. If you have plans to sell your home this winter, now is the time to get yard work and home exterior projects completed. This checklist can be knocked out over a weekend and you'll be glad to have these small tasks done so your home shows better in the winter.
Pressure washing
The fastest way to clean a huge surface area is with a pressure washer. Wash your home's exterior, remembering to get the soffits and gutters. Your patio is probably also due for a good cleaning. While you have the pressure washer handy, spray down your patio furniture and cushions so they are clean and ready to be stored for the winter.
Paint Touch Ups
Grab a brush and walk around your home touching up chips and nicks. Once it gets cold outside, you'll miss your opportunity to paint.
Check Lights
Replace burned out light bulbs and check your landscaping lights. If your light fixtures are dated or worn out, replace them now when it's easier to complete ladder tasks.
Junk Piles
Every inch of your property will be under scrutiny once your home is listed for sale. That junk pile hidden behind the shed will be in plain sight to prospective homebuyers. Store or toss out the random items in your yard and remember how messy your yard will look if your junk pile is covered in snow.
Landscaping
The first frost is just around the corner marking the end of the growing season. If you typically wait until spring to pull out plants and cut down grasses, consider doing that work now so your beds and borders are bare. The snow will pile up in these areas uniformly, giving your yard a more clean appearance. Spent grasses and perennials poking out of the snow makes homebuyers think ahead to the clean up work that's been left for them.
Grab a sunny fall weekend to get your home ready for a winter sale.