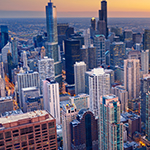 Make your rental property stand out and maximize your profits with the help of Mel Foster Co. and its relocation specialists. Buy a condo in downtown Chicago, a beachfront bungalow in Florida or a home on the golf course in Arizona for your enjoyment, and to generate additional income for you. These tips can help you successfully rent out your property.
Partner with Local Businesses.
To get the most out of your rental property, partner up with local attractions and businesses. If your rental comes with a 10% off coupon at a nearby ski resort, restaurant or theatre, it makes your listing stand out above the others. Local businesses will appreciate the advertising and business, and you'll enjoy the increased interest in your rental.
Reduce the Minimum Stay Requirement.
Renters will often be looking for a weekend getaway, especially during the off-season. During the busiest parts of the year, having a seven-day minimum isn't an issue for potential renters, but you'll notice a significant drop in interest during less busy parts of the year when week long rentals are more rare. Having someone renting for a brief period of time is much better than not renting at all.
Keep the Listing Updated.
If you want to entice potential renters, update your listing about once a month. You should list upcoming shows or events that are easily accessible from your property. If someone is coming to town specifically for an event, they'll immediately know your rental is the best option.
Work with a Local Real Estate Agent.
It's much easier to work with an agent in your current area before investing in a property in an unfamiliar area. Mel Foster's relocation specialists can help you determine cost of living expenses, state tax rates and connect you with an agent in the area you're interested in.
Click here for more information on how to get started finding the perfect rental property.