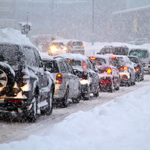 Traveling during the winter can be dangerous, especially during severe storms. Sometimes travel is unavoidable, so follow these tips to make sure you stay safe on the roads this holiday season.
Prepare Before a Storm Hits
Preparation is essential to having a reliable and safe car during the winter months. Have a mechanic check your battery, brakes, fluid levels and heating systems. Be certain your car is in the best possible shape. If you are stranded, make sure to only run the heat for about 10 minutes at a time as snow can sometimes block exhaust systems.
If you are going to travel, notify someone of your estimated travel time and route. This will provide you with a safety net if you end up stuck in a storm. Someone will know you're not at your intended destination, and will be able to contact authorities for help if you can't.
Create an Emergency Kit
It's a great idea to have an emergency kit in your car at all times. Blankets, food, water, first aid kits, road flares, shovels, towrope, booster cables and sand for additional traction are all extremely useful, especially during longer trips. Make sure you don't eat snow, as it will lower your body temperature. If it's your only source of water, try to melt it first.
If you're planning on a cross-country drive, make sure you have the required items to charge your cell phone. If you're stuck somewhere the best thing you can do is to call 911, and remain in your vehicle while you wait for help to arrive.
Get The Right Insurance Coverage
Consider including towing or car rental to get back on the road faster after an accident or mechanical issue. Finding the right plan is easy, especially since Mel Foster Insurance offers a free auto quote. Visit our website to find an insurance agent today!