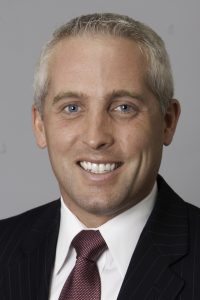 Lynsey Engels, President Real Estate Brokerage of Mel Foster Co. is pleased to announce that Thad DenHartog, SIOR®, mangaging director of Mel Foster Commercial Real Estate Services L.L.C. has been selected as a member of the Midwest Commercial Real Estate Hall of Fame 2015.  He joins a select group of real estate professionals who have made a true difference in their industry and communities.
The award honors the Midwest's most prestigious real estate professionals – those who have the vision and leadership to attain significant achievements in the industry and reshape their respective communities.  "We are thrilled to congratulate Thad for this outstanding achievement," said Lynsey Engels, President of Mel Foster Co. Real Estate Brokerage. "He is passionate about what he does and we are fortunate to have such a dedicated leader on our team. Thad truly exemplifies how hard work can lead to success and a fulfilling career in commercial real estate."
DenHartog has been in the industry and with Mel Foster Commercial Real Estate Services for 17 years and is a licensed managing broker in Iowa and Illinois.  He has been recognized as the company's Top Commercial Producer for the last 14 years, and brought in $71 million in completed real estate transactions last year.  For 16 consecutive years, DenHartog has achieved the Chairman's Club level.
As one of the most prominent commercial Brokers in the Quad Cities, DenHartog holds an extensive knowledge of a vast number of properties, their history and values. Combined with his knowledge of market and economic trends, environmental needs and community expectations, he provides clients with confident trustworthy assessments, evaluations, and negotiations. Thad gives an expert level of service clients expect for a successful real estate investment, earning him many long-term loyal clients for substantial repeat business.
His expertise lies in Sale and Lease Agreements for Retail, Office or Industrial/Warehouse Buildings.  Thad was instrumental in the development and marketing of a 210-acre project, with an economic impact of $250 million. Forty acres of the property are being developed into a casino and hotel complex in Davenport, Iowa.
He received the Blackhawk College Foundation Leaders Under 40 Award, is a member of the National Association of REALTORS®, Illinois Association of REALTORS®, Iowa Association of REALTORS®, Quad City Area REALTOR® Association, SIOR (The Society of Industrial & Office REALTORS®), and ICSC (International Council of Shopping Centers).  DenHartog gives back to the community through serving professionally on various boards of directors including Humility of Mary Housing Inc. and Western Illinois University Advisory Board.  When he is not working, he is an active supporter of the area's youth programs by coaching his children's sporting team.
He lives in Bettendorf, Iowa with his wife, Jennifer and their two children, Cooper and Kamryn.