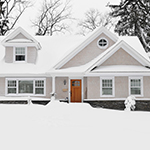 House hunting during the colder months may not be the most popular time of year to look, but there are several upsides to consider.
You Face Less Competition in the Winter
Approximately 50% of homes sold during the year are sold during summer months. If you purchase in the winter, you may avoid stressful bidding wars and sellers can be more eager to close quickly as they have fewer offers to choose from. They may also try to sweeten the deal with additional incentives when you buy during this time frame.
Sellers are Motivated
A motivated seller is great news for the buyer. If they're trying to sell quickly due to relocation or other time constraints, they'll be more flexible when it comes to price. It's also possible the house has been on the market for an extended period of time, maybe since last summer, meaning the seller is ready to close as quickly as possible.
Interest Rates May Increase
Interest rates can have an impact on your budget when buying a house. The direction of interest rates is never certain, but many analysts think the rates will increase, maybe even multiple times in the year, due to a strong economy. Consider that the sooner you buy, the further your money will go.
Housing Prices are Rising
Housing prices on average have steadily increased the past several years. This upward trend is expected to continue according to real estate analysts.
Find a Mel Foster Co. agent in your town.