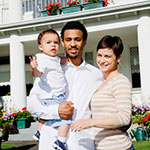 Buying your first home is an exciting adventure. However, there's a lot of your money on the line, so you'd better be prepared. Avoiding mistakes and getting guidance from seasoned professionals will ensure the process goes smoothly. Here are a few tips to help you make the most of your time and efforts when starting the home buying process.
Know What You Want and Do Your Research
This is one of the most important steps. What are your must-haves in your new home? What are you willing to compromise on? The more prepared you are before you start to look at properties, the easier it will be to pinpoint the perfect home. Also, with the power of the Internet, you have a wealth of information at your fingertips. Focus your search on the neighborhoods you are interested in and learn as much as you can about the surrounding area. Use the interactive search map to zoom in on neighbors and see what's for sale.
Get Preapproved
Talking to the bank prior to getting a mortgage will give you a leg up when you start looking at homes. Your lender will be able to assess your finances and let you know how much house you can afford, and give you an idea of what percentage rates you might expect to receive on your loan. Making an offer with a bank's preapproval may give you the upper hand if it's a competitive offer situation.
Work with a REALTOR®
Your agent can be your right hand man or woman when it comes time to start your search. Your agent can help you narrow down your options so you aren't wasting your time with homes that don't fit your needs. Their job is to help you find the home you want, and help you negotiate a fair asking price. Your agent can also help you navigate the paperwork, which can be overwhelming for first time buyers. Click here to find a Mel Foster Co. agent to start your home search.