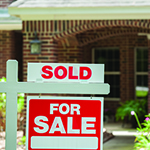 This summer will be a competitive season in the housing market where demand will be higher than supply. If you're planning on buying a home, here are some tips to help you prepare.
Get Your Finances in Order Ahead of Time
Before you begin looking for houses, make sure you're financially prepared to be a homeowner. This includes doing a credit check, gathering your employment and salary history, getting a current bank statement that shows savings and checking balances, making a list of your debts and anything else that could contribute to your net worth.
Be Prepared for High Prices
If you see a house you love, chances are someone else loves it too. Many sellers are receiving multiple offers and will often receive offers close to their asking price. Be prepared for firm prices and difficult negotiations. Determine your needs vs. wants when it comes to selecting a home and be willing to compromise so you can act and make an offer quickly.
Work with a Professional Real Estate Agent
Having a real estate agent on your team can make a big difference. An experienced agent can recognize what might make or break a deal. Your agent will offer the sellers your whole package and not just an offer number, making your offer more appealing to the seller. Your agent's ability to negotiate on your behalf gives you peace of mind that you're getting the most out of the deal.
To contact a Mel Foster Co. agent today visit our website.