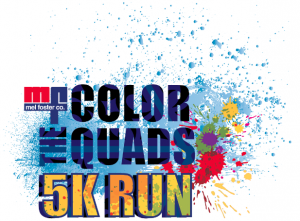 Final preparations are underway as Mel Foster Co. prepares for the final Color the Quads charity 5K Run. The race will be held this Saturday, May 21. The 4:00 p.m. 5K starts and finishes near Cumberland Square at 2300 Spruce Hills Drive, Bettendorf. The American Bank & Trust Kids Color Dash, a 400-yard race, is at 11:00 a.m. at Veteran's Memorial Park in Bettendorf and registration includes an after party sponsored by Tyson Fresh Meats.
Registration is still open at www.colorthequads.com. The 5K registration fee is $40 and all proceeds support local charities including Jordan's Joy, NAMI (National Alliance for Mental Illness) of the Mississippi Valley, and YMCA for Camp Abe Lincoln and Youth Solutions Programs. The registration fee includes race entry, t-shirt, pre- and post-race parties and a swag bag.
It's not too late to get the kids into the kids color dash. $20 registration fee includes race entry, t-shirt, pre-race festivities and activities prior to the 11:00am start, post-race party and a sway bag with lot of fun stuff for the kids.
Lynsey Engels, president of Mel Foster Co. Brokerage Division and Color the Quads committee chair, said, "Each year we are amazed at how great the community supports local events and raises money for local charities.  In the last three years, Color the Quad has supported over 24 local charities and we are looking forward to another record total amount raised in our final year."
"The weather forecast is calling for sunny and warm temperatures, which is a welcome bonus after last year's cooler than expected temperatures. Saturday is going to be a perfect day to be outside, whether you're a serious runner or just want to walk with a friend for a little exercise. Every race participant is invited to attend the XPAC pre-race color explosion party where the color packets start to get opened and the racers gear up to start through a sea of orange foam. Participants will enjoy live music on the course as they get "colored" with foam, paint and corn starch. After the race, there's a great outdoor party sponsored by Tri-City Electric Co. at Cumberland Square. Plenty of food and beverages will be available at no charge to race participants and it's a fun way to wind down after the race. Tickets for non-participants to attend the after party are just $20 and can be purchased at www.colorthequads.com. It's an easy way for non-race family and friends to join in without going through the race course," continued Engels.
Packet pick-up starts Thursday, May 19 from 5-7 p.m.; Friday, May 20 from Noon-6 p.m. and on race day at 9-10 a.m. and 1-3 p.m. at Color the Quads race headquarters, 2304 Spruce Hills Drive, Bettendorf, next to Dollar General in Cumberland Square.
Street closures will start at 3:45 p.m. on Saturday. The route starts in front of the Mel Foster Co. office in Cumberland square, runs north on 18th Street; turn west on Crow Creek Road; turn south on Greenbrier Drive, turn east on Tam-O-Shanter; turn south on South Hampton; turn east on Spruce Hills Drive; last turn is north on 18th Street to finish line. The race map can be found at www.colorthequads.com.