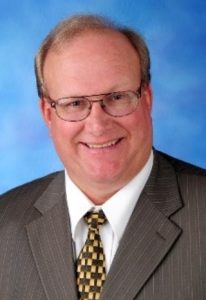 Mel Foster Co. is pleased to announce that Jon Yocum of their Bettendorf office was installed as President of the Iowa Association of REALTORS® during the Iowa Association of REALTORS® (IAR) annual convention held in Cedar Rapids last week.
Yocum has been a licensed REALTOR® in Iowa for more than 26 years, and has worked at Mel Foster Co. in Davenport since 1996. He has been an active member of the IAR since 1988, serving on numerous committees, including regional vice-president from 2007-2012, member of the education, consumer affairs, legislative, technology and member services committees. He served as IAR president-elect in 2014, treasurer in 2013 and Chairman of the Professional Standards committee in 2012. Yocum also received honorable mention for the 2005 Good Neighbor Award and in 2010 received the Good Neighbor Award for his volunteer work with the Student Built Home Program, where he has served as chairman for 16 years.
Yocum has also served in various leadership roles on his local board, the Quad Cities Area REALTORS® Association, including 2008 secretary/treasurer, 2009 chairman, a director for seven years, and as a member of several committees. He received REALTOR® of the Year Award in 2004 and 2009 and the Bert Frahm Award for Outstanding Dedication and Service to the Real Estate Industry and to the Community in 1999. He was a member and a three year director of the Greater Davenport Board of REALTORS® and received the Distinguished Service Award in 1997.
Yocum is very active in his community. He is also a member of the Quad City Home Builders, where Yocum, for the last 16 years has served as the chairperson for Student Built Home Project and received the 2005 Associate of the Year Award.
 About Mel Foster Co. Real Estate
Founded in 1921, Mel Foster Co. is a real estate leader in Eastern Iowa and Western Illinois serving Davenport, Bettendorf, Moline, Rock Island and the surrounding Quad City area. It is one of Iowa's largest independently owned real estate companies. Mel Foster Co. Real Estate specializes in residential and commercial sales and offers services for a broader spectrum of property transactions including farm and land, land development and management, relocation and new construction. Visit www.melfosterco.com for more information.