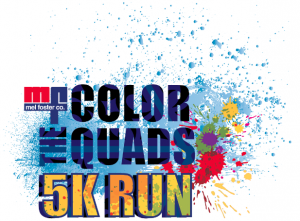 Mel Foster Co. Color the Quads is pleased to announce the charity recipients for the third annual Color the Quads race to be held on Saturday, May 30, 2015. Color the Quads donated proceeds to three local charities this year, and in 2015, three local charities will again benefit from the race proceeds.  The 2015 charities are Bethany for Children & Families, Gigi's Playhouse and Hand-in-Hand.
Bill Steinhauser, Bethany for Children & Families President/CEO said, "Bethany for Children & Families is deeply honored to be chosen by Mel Foster Co. as one of the charities to benefit from the 2015 Color the Quads race event. The funds raised by Color the Quads will support the agency's mission to keep children safe, strengthen families, and build healthy communities."
"GiGi's Playhouse Quad Cities is honored to partner with Mel Foster Co.'s Color the Quads in 2015.  GiGi's Playhouse is all about family, community, and positive energy and the same can be said for this one-of-a-kind Quad Cities event.  We look forward to a wonderful year with the Color the Quads Team," said Michelle Hornbuckle Hughes, Site Manager of Gigi's Playhouse – Quad Cities.
"Hand In Hand's hours of service for school age children and young adults with disabilities grew by 25% last year.   Being selected by Mel Foster's Color of the Quads means we can respond to the needs of these Quad City families", added Mark Smith, CEO of Hand-in-Hand.
Lynsey Engels, President of Mel Foster Co. Brokerage Division and Color the Quads Committee Chair, said, "We are thrilled to partner again with three wonderful charities on this super event.  We look forward to some new exciting twists for 2015 as planning is already under way!"
The 2015 Color the Quads 5K will take place on Saturday, May 30 near Cumberland Square at 2300 Spruce Hills Drive, Bettendorf, Iowa. Registration fees and sign up date will be announced before the end of this year. Stay tuned at www.colorthequads.com for more information.
About Mel Foster Co. Inc.
Mel Foster Co. is a recognized leader for real estate and insurance. Mel Foster Co. Real Estate specializes in residential sales and offers services for a broader spectrum of property transactions including commercial, farm and land, land development and management, relocation and new construction. Founded in 1921, it is one of Iowa's largest independently owned real estate companies. Mel Foster Insurance was founded in 1932 and represents over 25 insurance carriers and offers coverage for residential and commercial clients. Visit www.melfosterco.com for more information.
GiGi's Playhouse – Quad Cities
GiGi's Playhouse is an established series of Down Syndrome Achievement Centers.  Serving children and adults of all ages, each Playhouse provides educational and therapeutic programs at no charge to families; and in a format that individuals with Down syndrome learn best.  All programs aim to maximize self-confidence and empower individuals to achieve their greatest potential!  GiGi's Playhouse programs motivate our participants to give their "Best of All" and each Playhouse makes a lifetime commitment to their families. For more information about the Gigi's Playhouse, visit www.gigisplayhouse.org/quadcities.
About Bethany for Children & Families  
Bethany for Children & Families is a non-profit child welfare and social services agency that meets the critical needs of children, families, and individuals. Services include adoption, foster care, child welfare, counseling and therapy, education, transitional housing for homeless youth and families, and dental care for children. The agency has served children in the Quad City community since 1899. For more information about Bethany for Children & Families, visit www.bethany-qc.org. 
About Hand-in-Hand
Hand In Hand serves children and young adults, including those with disabilities. We provide programs such as childcare, summer camps, teen programs, a bowling league and even an adapted Girl Scout Troop.  As Hand In Hand offers activities for individuals with disabilities, we also provide critical support for their families so they can be successful at work and at home.  Hand In Hand also has a growing number of volunteer opportunities, especially for young adults in our community.  These young adults not only assist our Hand In Hand participants, but they also create an inclusive experience where typical students and individuals with disabilities interact in a positive way. Visit www.handinhandqc.org for more information about Hand In Hand.