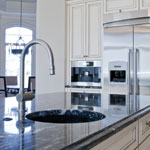 An updated kitchen can help you get top dollar from a buyer. This list tells you where to spend your remodel dollars to get the attention of buyers and your best return on investment.
Professional grade stove
Look for options like a flat griddle or a cooktop for a searing pan or wok. Even if buyers don't cook, nothing says quality in the kitchen like a beautiful, high-end stove.
Premium countertops
Granite still reigns supreme, but quartz is becoming popular as well. With a quartz product, like Caesarstone, you get the appearance of granite without the upkeep.
Hardwood floors
Hardwood and tile are popular in the kitchen. If you are considering a flooring change, stay away from linoleum and concrete. These products are least popular.
Stainless appliances
Stainless is still the finish of choice. Investing in stainless appliances that will stay with the home when you sell is a better choice than buying less expensive white or colored appliances.