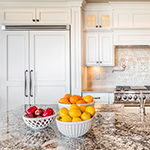 You've decided to sell your house, but how do you make sure potential buyers see it at its best? Follow these golden rules to properly stage your house and get the top dollar when you sell.
1. Remove personal items from your home.
When someone is looking at your home, you want them to be able to see themselves living there. If you have pictures of your family and friends, it seems less like a blank canvas for someone to paint their own story on and more like a stranger's home. You want potential buyers feeling all of the possibilities that come with buying your house.
2. Maximize the space in your home.
You want your home to appear as large as possible. You want to present a clutter free home that looks taken care of, and capable of holding someone else's possessions. You want buyers to imagine their things in the home, which is difficult to do if it looks cramped. A major mistake people make is trying to hide everything in closets, which makes it appear as though the home has no closet space. Consider renting a storage unit for nonessential items while your home is on the market.
3. Make sure your home is clean and sanitized.
This may seem like a no brainer, but you want to be sure your house is sparkling clean. Clear off and wipe down counter tops, and make sure bathroom floors are cleaned. A simple trick to make your home seem more open and clean is to hang up small white bath and hand towels to create a spa like feeling to your home. You want your home to look spotless so potential buyers know it has been taken care of.
4. Modernize your home furnishings.
You want your house to look up to date so there is less work for a buyer to do after purchase. Update your older cabinets with a fresh coat of paint and new silver or stainless steel handles. It's a quick, affordable switch that can make your home look more modern. Don't neglect your floor either. Something as simple as adding a new rug may really tie the room together.
5. Use neutral colors in your home.
You may love your daughter's bright pink room, but it may alienate potential buyers. It may clash with their furniture and be seen as an additional project that might deter them from buying your home. Try to stick to more neutral colors such as grey or white so anyone can be pleased by the color scheme. You can also use this strategy for setting a table or kitchen island, so it creates a nice calming feeling when you enter the room.