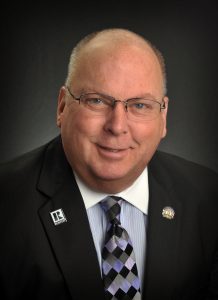 Lynsey Engels, President, Real Estate Brokerage at Mel Foster Co. Inc. is pleased to announce that Don Marple of their Davenport Kimberly Road office is on the list of 2017 Eligible Candidates as Regional Vice-President for Region 8 for NAR elected office per the Credentials and Campaign Rules Committee. The eligible candidates will be elected for office at the May 2016 NAR Board of Directors meeting in Washington, D.C.
Don has been a licensed Realtor® in Iowa for more than 38 years, and has worked at Mel Foster Co. in Davenport since 1995. He has been an active member of the IAR since 1980, serving on numerous committees, including past chair of the annual convention, and member of the education, consumers affairs, technology and member services committees. He served as IAR president in 2013, president-elect in 2011 and treasurer in 2010. He received the IAR President's Special Recognition Award in 1995 and 2014 Iowa Realtor of the Year.  He has also been a member of the Realtor® Foundation of Iowa Board of Directors.
Marple is presently serving on the National Association of Realtors® (NAR) – Public Housing and MLS Policy Committees. Marple also served as a commissioner on the State of Iowa Real Estate Commission from 2004-2007.
Marple has also served in various leadership roles on his local board, the Quad Cities Area Realtors® Association, including 2002 president, secretary/treasurer, and as a member of several committees. He received Realtor® of the Year Award in 1998 and the Bert Frahm Award for Outstanding Dedication and Service to the Real Estate Industry and to the Community in 1995. He has earned several of real estate's highest designations, including Graduate, Realtor® Institute (GRI), and Certified Residential Specialist (CRS).
Marple is very active in his community. He is currently a commissioner on the Scott County Condemnation Board. He has also served as past president for the Donahue Sportsman Club and was a founding member of the North Scott Soccer Club. He has been a Junior Achievement volunteer in the North Scott School District for the past 19 years, as well as a long-time volunteer with the Cub Scouts and Big Brothers/Big Sisters.