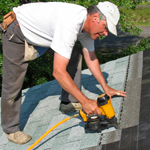 Now that summer is here, home improvement projects are in full swing. Take advantage of the warmer temperatures to improve your home's energy efficiency throughout the year.
Keep the cool air inside your house this summer by making siding repairs, checking for gaps or cracks and adding or replacing insulation. Repairing any damage will help your home be more energy efficient. You'll save on heating and cooling costs in the long run.
Another popular project with year round utility savings is roofing. Not only will installing new shingles help keep your home dry during storms, it will also insulate your home and once again help you save on heating and cooling over time.
Lastly, cleaning your HVAC system is easy to do when your hose is hooked up for summer watering. Make sure any part with visible buildup or dust on it is cleaned. This will help extend the life of your cooling system and ensure it is running properly. Taking some time to clean it every summer may save you hundreds in potential repair bills.