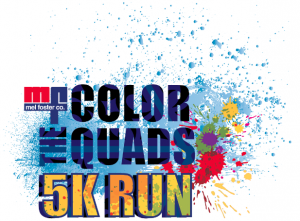 The Mel Foster Co. Color the Quads committee is pleased to announce the charity recipients for the fourth and final Color the Quads race to be held on Saturday, May 21, 2016. The 2016 charities are Jordan's Joy, NAMI (National Alliance for Mental Illness) Greater Mississippi Valley, and YMCA for Camp Abe Lincoln and Youth Solutions Programs. In 2015, the Color the Quads event raised over $73,000 that was distributed to local charities, 3 main charities and 13 other charities, and a similar goal is in place for fundraising in 2016.
Michelle McMullen with Jordan's Joy said, "Jordan's Joy is extremely honored to have been selected as a 2016 Color the Quads charity recipient. Jordan's Joy supports families battling life-threatening illness or facing life-altering events by filling funding gaps for comfort items, meals, gas cards, or medical bills that are not traditionally covered by other charitable sources. We are thrilled to be involved in one of the area's premier events and look forward to our partnership in 2016!"
"We are grateful that Mel Foster agents and employees continue to support NAMI outreach efforts. Funds raised through Color the Quads will be used to bring even more education to Quad Cities families to effectively support a loved one living with a serious mental health condition," said Michael Freda, board president, NAMI Greater Mississippi Valley.
"Our community and our YMCA is made healthier and stronger by the volunteers who bring together great people with events like Color The Quads," said YMCA CEO Brad Martell. "Color The Quads helps more kids, families, adults and seniors have access to healthy programs at the Y."
Lynsey Engels, president of Mel Foster Co. Brokerage Division and Color the Quads committee chair, said, "We are thrilled to partner with three amazing charities on this colorful community event.  We look forward to giving the participants another fun filled day with an exciting race course for 2016!"
The 2016 Color the Quads 5K will take place on Saturday, May 21 near Cumberland Square at 2300 Spruce Hills Drive, Bettendorf, Iowa. Registration fees and sign up date will be announced before the end of this year. Stay tuned at www.colorthequads.com for more information.
About Mel Foster Co. Inc.
Mel Foster Co. is a recognized leader for real estate and insurance. Mel Foster Co. Real Estate specializes in residential sales and offers services for a broader spectrum of property transactions including commercial, farm and land, land development and management, relocation and new construction. Founded in 1921, it is one of Iowa's largest independently owned real estate companies. Mel Foster Insurance was founded in 1932 and represents over 25 insurance carriers and offers coverage for residential and commercial clients.
About Jordan's Joy
Jordan's Joy was established in memory of Jordan Schmidt.  Jordan was a true hero that passed away at the age of 15 from a rare and aggressive form of cancer.  Though he faced tough battles, his spirit and positive attitude never wavered, and he was an inspiration to all that knew him. The purpose of Jordan's Joy is to fill the void that a Quad City family may have while battling life-threatening illnesses that cannot be met by other charitable organizations. 100% of the funds raised by Jordan's Joy stay in the Quad Cities and go to local families, as all operating expenses are donated by a local business.
About NAMI Greater Mississippi Valley
One in 10 children and one in four adults experience a serious mental health condition in any given year. This grassroots organization is an affiliate of the National Alliance on Mental Illness, providing support, education and advocacy to individuals and families living with mental illness. It serves residents in Muscatine, Clinton, Scott Counties in Iowa and Mercer, Henry, Rock Island Counties in Illinois.
About the Scott County Family Y
The Scott County Family Y has been serving Eastern Iowa since 1858. We build a stronger community through Youth Development, Healthy Living, and Social Responsibility. Today, we serve 1 out of 3 people in Scott County.